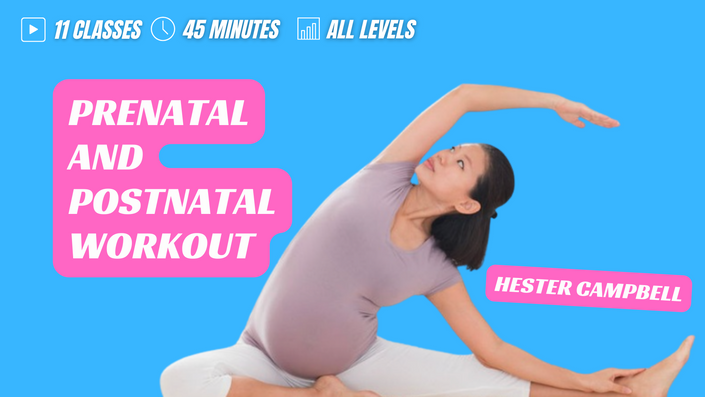 Prenatal And Postnatal Workout
11 Classes - 45 Minutes - Yoga - Prenatal Health - Postnatal Recovery



Goal: Gain Strength, Prenatal Health, Postnatal Recovery
Difficulty: Beginner, Intermediate, Advanced
Duration: 5 weeks
Workout Length: 45 minutes
Programme Description
This series of online Prenatal and Postnatal Workout classes has been specifically designed to provide a full-body workout for women before and after childbirth.
It is important to note that you must still seek advice from your medical professional as to the suitability of this programme if you have existing conditions or experienced significant complications during childbirth.
Using yoga exercises, these workouts have been designed to help with:
Preparing your body for labour
Building strength to help during pregnancy
To help speed up your recovery post-birth
Building strength to help carry your baby
With low-impact movements, yoga is an extremely effective way to get a full-body workout without risking injury.

The slow controlled movements of yoga can sometimes leave people thinking it's easy, make no mistake, yoga is still a tough full-body workout that provides results.
The benefits you will see include:
Relief from stress
Improved circulation
Improved fitness
Improved core strength
Improved flexibility, balance, and body control
Increased muscle tone and weight loss
A feeling of greater harmony between mind and body
Hester recommends doing 2 classes per week to maximise results.
For more of the best online yoga workouts, check out all of the InstructorLive fitness programmes.
Equipment
No equipment is needed for this programme.
Remember to stay hydrated. Water helps fuel your muscles, so drinking before, during and after exercise will boost your energy levels, and may help to prevent cramp.
Your Instructor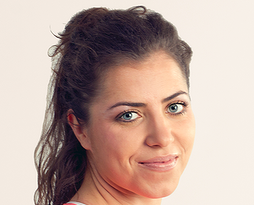 With a mother who taught aerobics in 1980 and popped baby Hester in the corner in a bouncer, the qualified personal trainer and group fitness instructor has been surrounded by fitness her entire life.
Now a mother herself, Hester's interests have spanned dance, sport, the circus and more. As such, she is passionate about the twists and turns life takes and creating a healthy lifestyle around them that you love.
Encouraging her clients to make a life-long habit of exercise, she enjoys inspiring people to find a health and fitness routine that suits them.
Frequently Asked Questions
When does the subscription start and finish?
Your subscription starts as soon as you complete the payment process. You will have instant access to every programme listed. Your subscription ends when you choose to cancel it.
Does this subscription really include every programme listed? Are there any hidden charges?
This subscription gives you unlimited access to every programme listed. There are no hidden charges.
What if I am unhappy with the course?
We would never want you to be unhappy! If you are unsatisfied with your purchase, contact us in the first 30 days and we will give you a full refund.